The Marchetti Shrine
Many people don't know that Mark Marchetti appeared
in several Auto Zone commercials and also played a cop
in the movie about Jerry Lee Lewis called "Great Balls of Fire."
Huge effort - nice photo!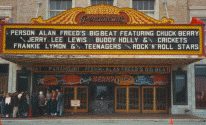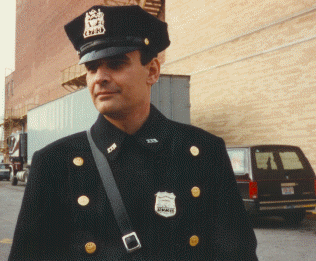 In 1997, Todd Snider hosted the "What the Folk Fest" concert to benefit the Memphis Food Bank.
The performers included The Bottle Rockets, Steve Earle, Joe Ely, Jack Ingram,
Kevin Kinney, Kim Richey, Keith Sykes, and Jerry Jeff Walker.
It was a huge event held at the New Daisy in Memphis.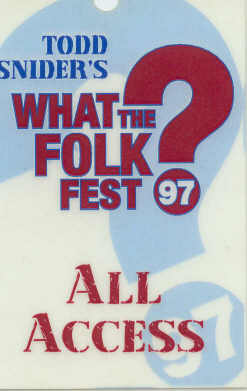 I'm adding the Bob Dylan "Opening Act" Laminate from when Todd Snider
opened for Dylan in Oxford, Mississippi back in 1992.
It was just Todd and Mark travelin' around back then and
it must've been a pretty cool time.
I'm not sure if the laminate was Todd's or Mark's.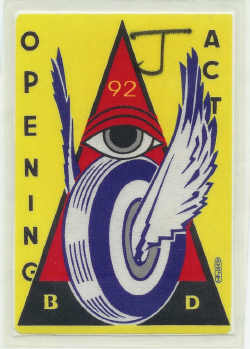 It doesn't seem that long ago
but I guess it must've been August of 1993
when FM 90 WEVL had their unplugged benefit
at the Daily Planet. There was a "strong wind blowin" that
night. Mark Marchetti, Todd Snider, Kellison Warren,
Hedges Starr & Young all performed.
I must have a tape somewhere.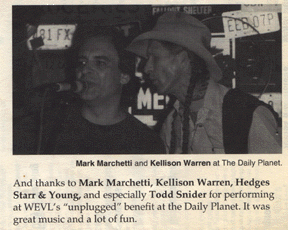 This article appeared in the Memphis Star on April 16th, 1992.

Marchetti co-wrote a song with Rick Clarke in 1982
called "HOLD ON" which Gail Davies recorded and released on
her, "Givin' Herself Away" album. It was a huge hit
on the Country Billboard charts for months and received favorable
reviews from national publications.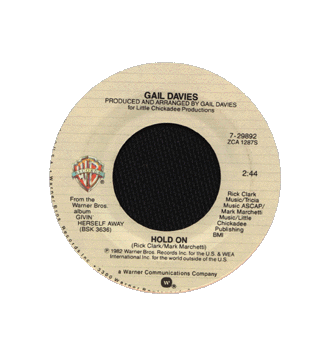 Like this one from PEOPLE MAGAZINE dated March 8th, 1982.
Marchetti, Todd Snider and Shannon Hills co-wrote a
song together in 1994 called, Somebody's Coming which appeared
on Snider's first release called, "Songs for the Daily Planet".
It's been recorded at least a half dozen times since then.
Todd noted thanks on his liner notes.
In 1996 Marchetti's Dance, Dance Dance lyric appeared on the inside sleeve
of Todd Snider's second release, "Step Right Up." Marchetti was
given credit for being a, "poet, songwriter, and last of the
drunken high wire acts."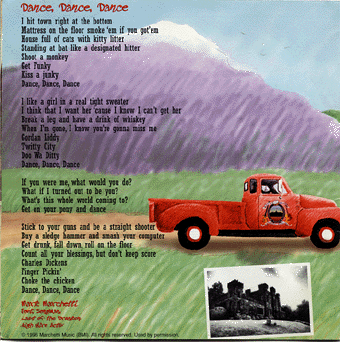 How about that rare live performance like the one
on July 16th, 1997 at the Music City News Writer's Night
at the Cafe Milano in Nashville. The show featured the
likes of Steve Earle, Stacey Earle, Malcolm Holcombe, Keith Sewell, Stephanie Jones,
Jimmy Collins and Mark Marchetti. A nice review of the
show appeared in the August 8th, 1997 MUSIC ROW MAGAZINE.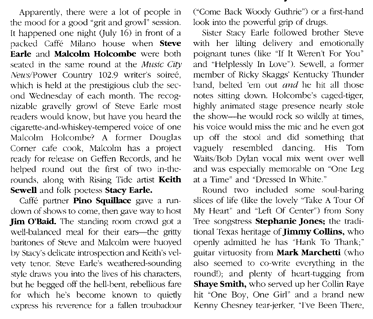 Yeah, but what have you done for me lately you
may ask. How about this article which appeared in the
June 5th, 2000 edition of PEOPLE MAGAZINE. Clay Davidson
recorded "We're All Here" which Marchetti co-wrote with Clay
and his wife Francis.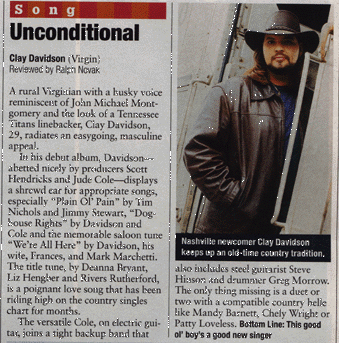 More to Come!



Back